Wardenclyffe Tower
Wardenclyffe Tower (1901 – 1917) also known as the Tesla Tower, was an early wireless telecommunications aerial tower designed by Nikola Tesla and intended for commercial trans-Atlantic wireless telephony, broadcasting, and to demonstrate the transmission of power without interconnecting wires.
The core facility was never fully operational and was not completed due to economic problems.
Nikola Tesla
The tower was named after James S. Warden, a western lawyer and banker who had purchased land in Shoreham, Long Island, about sixty miles from Manhattan. Here he built a resort community known as Wardenclyffe-On-Sound.
TESLA LAB FOUND!!! - Wardenclyffe Tower
wHPQq_dxq6U
Tesla had 3 objectives for his tower:
1. Worldwide wireless communication.
2. Worldwide transmission of electricity.
3. A shield to protect the U.S. from foreign invasion.
Tesla's wireless and communications system did not use Hertzian waves to broadcast but rather used the EARTH as a carrier for the electromagnetic and high frequency waves.
Tesla was a man of peace and he envisioned using electricity as a SHIELD to protect any nation from an invading force . . .
and thus end all wars....To accomplish this he designed a PEACE RAY which the media quickly dubbed a DEATH RAY.
Tesla's tower could produce 100 billion watts of electricity!!
Tesla's magnifying transmitter could produce awesome levels of power by setting up stationary waves in the earth.
The awesome power released by Tesla in a few seconds defies description but it can be proven mathematically:
"The difference between a current that can be used to run, say, a sewing machine and a current used as a method of destruction, however, is a matter of timing. If the amount of electricity used to run a sewing machine for an hour is released in a millionth of a second, it would have a very different, and negative, effect on the sewing machine.
Tesla said his transmitter could produce 100 million volts of pressure with currents up to 1000 amperes which is a power level of 100 billion watts.
If it was resonating at a radio frequency of 2 MHz, then the energy released during one period of its oscillation would be 100,000,000,000,000,000 joules of energy, or roughly the amount of energy released by the explosion of 10 megatons of TNT.
Such a transmitter, would be capable of projecting the energy of a nuclear warhead by radio. Any location in the world could be vapororized at the speed of light" (Smith, HAARP, p. 43).
It's 7:17 AM on the morning of June 30, 1908, the exact moment when Nikola Tesla is testing his "Death Ray"
by aiming his beam towards the Arctic Cirle where he hopes Admiral Peary will see a visual display in the sky.
In the small Siberian village, herders of Raindeer are awoken by a huge ball of light, followed by an enormous explosion.
Seismic vibrations were recorded by sensitive instruments as much as 1000 km (600 mi) away. At 500 km (300 mi), observers reported "deafening bangs" and a fiery cloud on the horizon. About 170 km (110 mi) from the explosion, the object was seen in the cloudless, daytime sky as a brilliant, sunlike fireball; thunderous noises were heard. At distances around 60 km, people were thrown to the ground or even knocked unconscious; windows were broken and crockery knocked off shelves. Probably the closest observers were some reindeer herders asleep in their tents in several camps about 30 km (20 mi) from the site. They were blown into the air and knocked unconscious; one man was blown into a tree and later died. "Everything around was shrouded in smoke and fog from the burning fallen trees."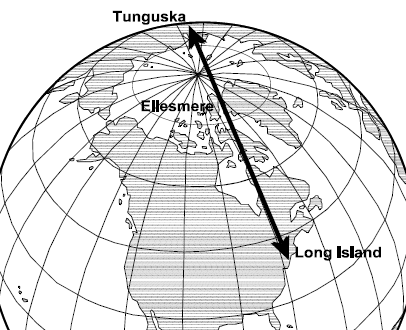 Work on beam weapons also continued in the United States. In 1958 the Defense Advanced Research Projects Agency (DARPA) initiated a top-secret project code-named "Seesaw" at Lawrence Livermore Laboratory to develop a charged-particle beam weapon. More than ten years and twenty-seven million dollars later, the project was abandoned "because of the projected high costs associated with implementation as well as the formidable technical problems associated with propagating a beam through very long ranges in the atmosphere." Scientists associated with the project had no knowledge of Tesla's papers.
In the late 1970s, there was fear that the Soviets may have achieved a technological breakthrough. Some U.S. defense analysts concluded that a large beam weapon facility was under construction near the Sino-Soviet border in Southern Russia.
Samples of Documents from Tesla's FBI File:
http://www.pbs.org/t.../ll/fbi_01.html
http://www.pbs.org/t.../ll/fbi_02.html
http://www.pbs.org/t.../ll/fbi_03.html
http://www.pbs.org/t.../ll/fbi_04.html
http://www.pbs.org/t.../ll/fbi_05.html
http://www.pbs.org/t.../ll/fbi_06.html
List of Tesla patents:
http://www.google.co...=Search Patents
Sources:
http://www.reformati...d-tunguska.html
http://www.bibliotec..._tunguska02.htm
http://www.pbs.org/t..._mispapers.html
http://www.pbs.org/tesla/
http://www.youtube.com/
http://www.google.com/