Hi,
First to the moderators: I believe this is probably the right section to post this thread, but if not, please feel free to move it to the appropriate place. Thank you & thanks for maintaining such a great and resourceful site!!
Now, on to my problem...
I realize the goal of installing a full instance of XP Pro to a USB stick is a difficult one, but I am determined to try and make this happen as it would be very helpful to me in a certain situation. Specifically, my goal is to use an old machine which supports (but just barely) Windows XP's system requirements and run it off the USB for a dedicated VOIP application which unfortunately requires a full XP install. (I already tried running the VOIP app on a LiveXP instance but the app wouldn't run citing an invalid XP version
) In any case, it would be nice to be able to run a full XP instance off a USB stick for other reasons as well, since a LiveXP instance does have certain limitations.
So far I've done some research and found a few articles about this process and decided to follow the instructions here,
http://www.ngine.de/article/id/8/
, which seem somewhat promising based on the author's experiences.
However, while following these steps meticulously and double-checking everything I keep running into the same problem. I've tried this install on 2 PCs and a Virtual Box instance (that's how I got the screenshots). This first pic is what I see after selecting the USB stick as the install location. Note that the USB stick IS detected and is able to be partitioned but this screenshot is as far as the install will go.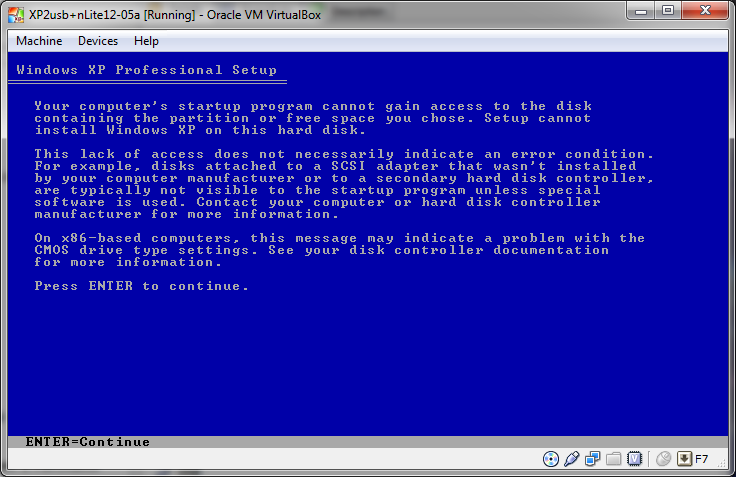 When I plug in an internal hard drive XP detects the HD and USB stick and from the following pic you can see the difference in controller types which I suspect may be the reason why XP is unwilling to install to the USB stick. The stick does not have an ARC path it can reference, e.g.
http://support.microsoft.com/kb/102873
This is the screen (below) which will come up right before the one shown above. When the USB stick is selected the error screen above appears.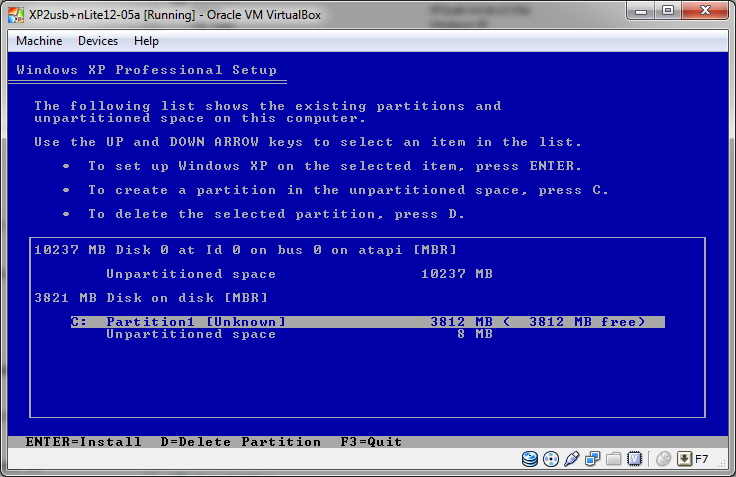 Any ideas for how to work through this issue would be appreciated!
Thanks in advance for any useful advice.