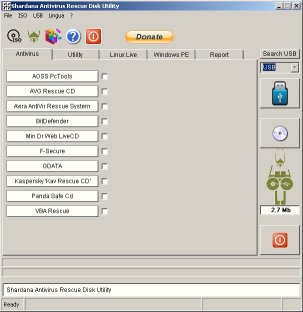 SARDU 2 has been released
I am pleased to inform you that the SARDU 2.0.0 final version has been released.
Today for me is a very important day today my daughter Emanuela is one year. This software is dedicated to her.
In my own way I celebrate it with all of you releasing this new major release.
Summarize the changes for those who haven't used the beta version
New graphics
Autolanguage (i'm searching language not translated)
New engine for ISO
New engine for USB
Folder ISO at user's choice
SARDU's ISO at user's choice
Copy of USB not freeze
New Tab for report
Add Direct Download for ISO's
Fix problem with puppy checkbox
Fix Ubuntu
Fix Kubuntu
Fix Clonezilla
Fix F-Secure conflict with others software
Fix Windows Recovery disks with ISO
Fix Gdata
Fix Live Inquisitor
Added ability to block and exit sardu while sardu working
Fix bug for thirst direct download
Update Plop to 5.0.11
Fix other software of parted magic
Add Redo Backup Live CD
Add xPUD Linux
Add Phoronix Test Suite
Attention: These fixes do not mean that the old version was bugged. SARDU is software that needs to be updated very often, to my misfortune. when the software company changed the name of a kernel or initrd need to change the rules even SARDU.
SARDU, unlike other software that create multi-boot, bases its operation on the extraction of individual files. This makes it faster and more usable in PC even outdated. The other load the ISO in memory...
logically this way is harder, needs constant monitoring,often takes days to figure out incompatibilities between software. This has become my toy. This toy is giving me great satisfaction, not economic, but it spread all over the world ....
I would also like to remind those who do not know that I'm not work on IT (unfortunately). I sell liquor: D
Logical feedback, corrections and possibly translations and languages are welcome
Davide Costa