Submitter
Submitted: Sep 20 2013 12:57 PM
Last Updated: Apr 01 2017 06:52 AM
File Size: 190.48MB
Views: 44571
Downloads: 21148
Previous Versions
Download MistyPE 2017/04/01
2 Votes
winpe
winpe2
winpe3
winpe4
winpe5
winpe10
2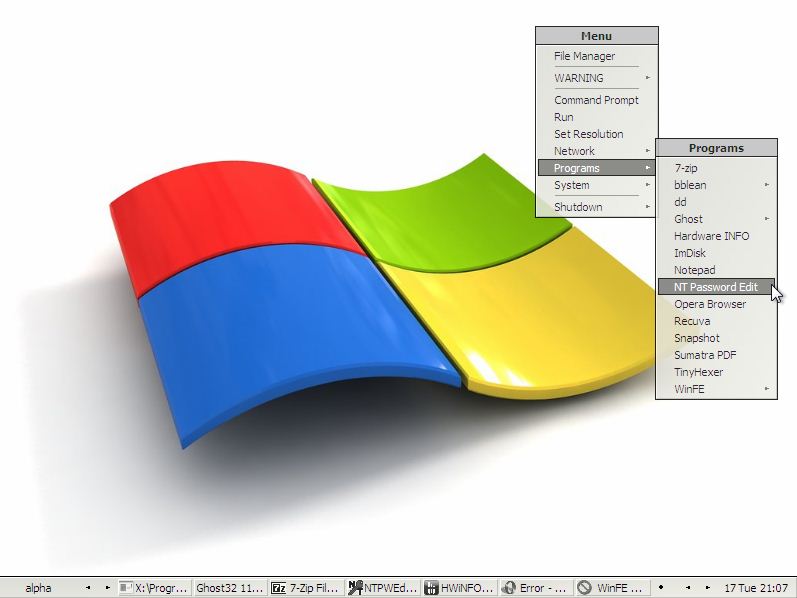 This is a minimalist 32 or 64-bit WinPE/WinFE with a GUI shell (BBLean - based on BlackBox for Windows) - originally created for system deployment, backup, restore and recovery.
Use this project to create WinPE (version 2.*/3.*/4.0/5.*/10.*) in a matter of minutes from Windows installation media - a DVD, local folder, network share or mounted disc image. WAIK/ADK is not required.
There is also an option to collect the necessary files from the host operating system used to run winbuilder - Windows 7/8/8.1 supported. Credit to Erwan.l whose
QuickPE
project pointed the way to the required commands. This option requires that WinRE be copied from the C: drive - if WinRE was not copied to the C: drive during the Windows install then it won't be possible to use this method.
Project goals -
A successful build every time!
Clean and simple user interface
Good quality instructions
WinBuilder version 82 is included in the download. This project has been tested on Windows Vista (SP1)/7 (SP1)/8/8.1 host Operating Systems and is also reported to be working on Windows XP (SP3).
Please see here for more information and to post feedback -
http://reboot.pro/topic/18917-mistype/
Regards,
Misty
Documentation is included in the download and is also available online -
http://mistyprojects...ocs/readme.html
For changelog, see
here
The project has undergone numerous changes throughout the past four weeks - resulting in significant code changes. A number of hidden scripts have been introduced and code from the "Core > Core Files" script has been moved. Error checks and source verification have been improved.
The project has a new home - http://www.mistyprojects.co.uk/
New program kindly developed for this project by reboot.pro forum member Erwan.L - DiskMgr. Intended primarily for WinFE usage. Refer to document - Project > Cache > Programs > WinFE > DiskMgr.pdf
LaunchBar (program launcher) added to the build. LauchBar is enabled by default (option to enable\disable is in the main project options (option 11)). Some LaunchBar settings are also in the
Shell.Then.End > BlackBox Lean script.
Q-Dir File Manager added. This is now set as the default filemanager. A43/FileManagerPE can be selected if required (refer to the settings in the "Essential > FileManager" script).
Following programs updated - DMDE, CloneDisk.
Following scripts updated -
- Ammyy Admin (Filebox added for copying from local directory)
- defraggler (updated the version downloaded)
- Recuva (updated the version downloaded)
Main project script includes new options - including Admin and UAC checks and logfile generation (see "Options 3" tab).
Following project scripts removed -
- Tools > ADK For Win 8
- Tools > ADK For Win 8.1
- Tools > Create a Cache from WinRE
New project scripts added. Use the "Tools > ADK" script to download/install/build WinPE from an ADK with any required packages. ADK for Windows 8 / 8.1 / 10.0.14393 supported. Refer to help
information built into individual scripts for more information -
- Programs > WoFADK
- Tools > ADK
- Tools > Advanced Options
- Tools > Add Program
- Tools > Cache Files
- Tools > Update Project
TAB effect user interface introduced in a number of scripts including the main project script.
Added search for "install.swm" if "install.wim" and "install.esd" are not found. Thanks to reboot.pro user PTAHDEL0H0. See link below - http://reboot.pro/topic/21459-mistype-windows-10-pe/?
p=202908
Fallback language support improved.
Wallpaper script fixed following a bug introduced in one of the beta releases.
Bug in SysWoW64 support for Windows 8.1 fixed.
Support for Browse for Folders and SysWoW64 now working in Windows 10.0.10586.
Documentation updated.
Other files you may be interested in ..
By misty

Oct 14 2013 08:53 PM
375

Total Files

13

Total Categories

90

Total Authors

5096037

Total Downloads
Emsisoft Emergency Kit Latest File

Rolf

Latest Submitter
36 user(s) are online (in the past 3000 minutes)
0 members, 36 guests, 0 anonymous users
MistyPE